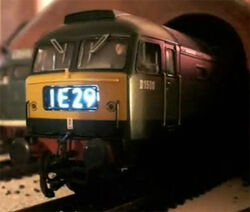 Brush
Number: D1500
Class: BR Class 47
Builder: Brush Traction
Built: 1962
Configuration: Co-Co
Brush is a Class 47 diesel who lives at Leeds Central.
Brush is painted in BR two-tone green.
Brush is based on the real D1500, the prototype BR Class 47 Co-Co.
Personality
Edit
Unlike the demeanor that the other Diesels give off, Brush is apparently polite, friendly, and even compliments Stephen when he visits the diesel depot.
Appearances
Edit
Brush appeared in a 1953-set episode and a 1959-set episode, but the Class 47s were not introduced until 1962.
Brush despite appearing in a 1953 and 1959 set episode is the latest diesel to be built that is known in the series.
Brush's headcode is IE29.
Brush was named after the works in which he was built, Brush Traction.