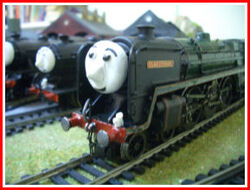 Clan Stewart
Number: 72009
Class: BR Standard 6P Clan
Designer: Robert Riddles
Builder: BR Crewe Works
Built: 1952
Configuration: 4-6-2 Pacific
Power Classification: 6P
Clan Stewart is a Standard Class 6 Pacific that sometimes visits Copley Hill.
Bio
Stewart was built in 1952 at BR Crewe Works. He was based at Carlisle all his life, but he did often visit Copley Hill. In 1953, he was the engine pulling the Midday Express that was almost hit by a runaway railroad car. Several years later, in 1958, Nigel was placed on the Out of Use line by Gronk. The engines thought he was being sent for scrap, but in reality, he was placed there as the Out of Use was close enough to the main line for Stewart to place him on his goods train and take him to the Works at Ardsley.
Basis
Stewart is based on the real No. 72009 Clan Stewart, a BR Standard Class 6P 4-6-2 Pacific Type.
Livery
Stewart is painted in lined BR brunswick green.
Appearances
Episodes
Trivia
Clan Stewart's model is a modified BR Standard 7 Britannia 4-6-2 Pacific model.
Gallery
Community content is available under
CC-BY-SA
unless otherwise noted.