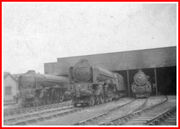 Copley Hill is the main setting of The British Railway Stories. It was a five-road locomotive shed located in Leeds. In real life, Copley Hill was closed in 1964, and the site of the sheds has now been turned into an industrial estate.
Copley Hill shed was a five track locomotive shed, which faced the east west. The roads to the shed were arranged as a three road and two road set of blocks, with a brick screen in between them. Re roofed in 1949, it was not dissimilar to the Louvre style.
South of the shed lay a single siding, and south of that the shed's turntable, with a single approach road coming off that siding, and the track into the shed itself. Nearby were the carriage works, and surrounding the shed was the Wortley Triangle, a criss cross of running lines leading into Leeds, Bradford, and southwards towards London.
Locomotives
Edit
Many locomotives have stayed at Copley Hill in The British Railway Series over the years. In some cases, the real life counterparts of the BRWS engines were based at Copley Hill, most notably No. 60114 W.P. Allen.
Current Locomotives
Edit
A LNER Thompson L1
A LNER J94
Scott is also a regular visitor to the yard.
Former Locomotives
Edit
Model layout
Edit
From episodes 1-7, Copley Hill was just a generic railway shed, but from episodes 8-11, it was slightly more detailed, only being named Copley Hill in episode 10. In episode 12, Copley Hill was completely rebuilt, and it now looked more like the actual Copley Hill, but with a four-road shed instead of a five-road one.
The layout has now been even more extensively rebuilt, and in episode 16, it looked almost exactly like the real Copley Hill shed.
As of 2013 the layout has been completely dismantled and shall be much larger because Simon explianed that Copley Hill was a poor trainset. He also wanted to start running his collection of steam engines and rolling stock. The layout shall be kown as 'Ganwick Curve'.
Simon Martin's grandfather worked at Copley Hill, which is possibly why Simon decided to make Copley Hill the main shed of the BRWS.
Community content is available under
CC-BY-SA
unless otherwise noted.