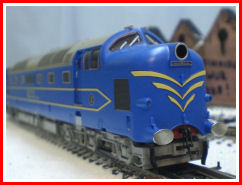 Deltic
Number: DP1
Class: BR English Electric Prototype
Designer: George Nelson
Builder: Dick, Kerr Works
Built: 1955
Configuration: Co-Co
Dispotion: Preserved at the National Railway Museum, Shildon
Deltic is a prototype diesel engine.
Bio
Deltic was built at Dick, Kerr Works in 1955. He worked on the Midland Region and Eastern Region until 1959, when he showed up completely unexpected at Copley Hill in the winter of that year, startling all of the engines in that yard.
Soon, Deltic became aware that Gronk was hiding a secret, and finally, after forcing him to tell, found out that Gronk had moved Nigel to the Out of Use line, although he was not to know that it was not for scrap. He then proceeds to tell Gronk that he has seen the Preserved Engines List, and none of the steam engines are going to be saved from the Modernisation Plan. Later that night, Deltic headed to the yard, and reveals Gronk's secret to the other engines. Allen tried to stand up to Deltic, but he was threatened by the diesel, until Deltic over-revved his engine.
A little while later, Deltic was pulling a passenger train, when he suddenly failed dramatically under the signal gantry of Copley Hill. He was quickly removed from the train, and Allen took it for him. Next morning, he was just being removed from the yard, when he apologised to Gronk, and asked him to forgive him for something, but fell silent before he could say what. He was then taken away.
Persona
Deltic is an evil and cunning diesel, who knows all about the Modernisation Plan.
Basis
Deltic is based on the real DP1, the BR English Electric Prototype Deltic, which has now been preserved by the National Railway Museum at Shildon.
Livery
Deltic is painted French blue, with cream stripes running along his sides, and turning into whisker shapes at his front and rear. He also has his name painted on his side in cream.
Appearances
Episodes
Simon Martin has confirmed that Deltic will appear in a future episode, as Deltic's failure in "Day of the Deltic" was in 1959, so this was not the catastrophic failure that ended the DP1's real working life in 1961.
Books
Trivia
Deltic was the first true villain in the series.
Gallery
Community content is available under
CC-BY-SA
unless otherwise noted.