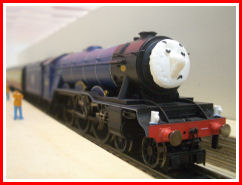 Flying Scotsman
Number: 60103 (BR Number), 4472 (LNER Number and current)
Current Owner: National Railway Museum (formerly Alan Pegler)
Top Speed: 100 mph
Configuration: 4-6-2
Built: 1923
Builder: Doncaster Works
Designer: Sir Nigel Gresley
Class: LNER Gresley A1/3 Pacific
Flying Scotsman (better known as Scott to the other engines) is an LNER 4-6-2 who often comes to Copley Hill.
Bio 
Scott was built in 1923 at Doncaster Works. Back in the 1930's he was good friends with two A4 Pacifics, Herring Gull and Gadwall. Unfortunately, when the Second World War broke out, Herring Gull and Gadwall (now named "Sir Ralph Wedgwood") were reallocated to York and in 1942, Sir Ralph was destroyed in an air raid in the Bedeker Blitz at York Station. By the time the news of the disaster had spread, Scott had been allocated to New England shed. Over the years that followed, he never saw Herring Gull again, but at this time, he had been renamed "Sir Ralph Wedgwood" as well. As a result, Scott didn't know which engine had been killed.
Whilst he was quite famous during the days of the LNER, by 1952, Scott had become "just another engine on the railway". He became quite depressed about this, but one day, whilst pulling an express, Scott's injectors failed. At first, it seemed hopeless to get them started again, but finally, the injectors started working again, but by then, a lot of Scott's fire had been dropped. When he returned to the shed, it was revealed that Scott's injectors failed because a fish that had been in the water tank had blocked the injector pipe.
In 1953, Scott visited Copley Hill for the first time. At first, he was saddened by the fact that most of the engines didn't know him, but was pleased to tell them about his history. Whilst he was pleased to hear about the other engines, he was shocked when Sir Ralph's name was mentioned. He was even more surprised when Sir Ralph came into the shed, but got suspicious when he ran away in shock. He managed to confront Sir Ralph that evening though, saying that his secret was safe with him. After a incident with a wrong headcode however, he burst out to everybody that Sir Ralph was impostor who had stolen his friend's identity. Scott thought that Sir Ralph must be Gadwall, but after Stephen revealed the truth, Scott realised that it really was his friend, Herring Gull. After a talk alone with each other, the two engines became good friends once again.
In 1959, Scott was given a complete overhaul, with a new coat of Brunswick green paint applied and a new double chimney fitted. At first, he was teased about it, and he was quite angry, but after Stephen told the other engines a story about how great Scott really was, everyone thought it a great joke, including Scott himself.
Around the early 1960s Scott was fitted with German style smoke deflectors along with his brothers and sisters to prevent the smoke from drifting all over. This helped him and he was happy with it.
Preservation
In 1962, British Railways announced that they would scrap Flying Scotsman. Scott ended regular service with its last scheduled run on 14 January 1963, completing 40 years of loyal revenue service.
Proposed to be saved by a preservation society called "Save Our Scotsman", they were unable to raise the required £3,000, the scrap value of the locomotive. Having first seen the locomotive at the British Empire Exhibition in 1924, in 1961 Alan Pegler had received £70,000 for his share holding when Northern Rubber was sold to Pegler's Valves, a company started by his grandfather. Peglar stepped in and bought the locomotive outright, with the political support of Harold Wilson. He spent the next few years spending large amounts of money having Scott restored at Doncaster Works as closely as possible to its LNER condition: the smoke deflectors were removed; the double chimney was replaced by a single chimney; and the tender was replaced by one of the corridor type with which the locomotive had run between 1928 and 1936. It was also repainted into LNER livery, although the cylinder sides were painted green, whereas in LNER days they were always black. Peglar then persuaded the British Railways Board to let him run enthusiasts specials, then the only steam locomotive running on mainline British Railways. He worked a number of rail tours, including a non-stop London–Edinburgh run in 1968 – the year steam traction officially ended on BR. In the meantime, the watering facilities for locomotives were disappearing, so in September 1966 Pegler purchased a second corridor tender, and adapted as an auxiliary water tank; retaining its through gangway, this was coupled behind the normal tender.
Personality
At first, Scott was thought to be rude and spiteful, but he was really grieved and is truly a kind-hearted, but vain engine.
Basis
Scott is based on the real No. 4472 Flying Scotsman, a LNER Gresley A3 Pacific. This locomotive is one of the most famous in the world as a result of her record-breaking run in 1923 where she became the first to have officially gone 100mph (though GWR 3700 Class City of Truro is sometimes thought to have broken the record in 1904).
Livery
From 1923 to 1939, Scott was painted in LNER apple green livery, and was then painted into wartime black until the end of the war. From 1950 to 1952, he was painted in BR Express Passenger blue, and then in 1952, he was repainted into BR brunswick green. Then in 1962, he was fitted with German Style Smoke Deflectors. In real life he was then painted in LNER Apple Green and refitted with a single chimney, minus smoke deflectors. Then in 2011, he was repainted into LNER Wartime Black livery; smoke deflectors removed and his number was the changed from 4472 to 103/502. After an expensive restoration, he is back in service; initially in Wartime Black, but now in his final form - BR Brunswick Green with smoke deflectors.
Appearances
Episodes
Books
Trivia
Scott shares pretty much the same background with his real life counterpart.
Scott's face was Sir Ralph's original face and a generic background character face.
On the original BRWS site, it was stated that the name "Scott" originated from a joke when one member of the production team had never heard of Flying Scotsman. This was expanded upon in the series when Allen and Tavish had never heard of the famous engine before due to the fact that in post-war Britain, Scott was just one of many main line engines, and the former two were built long after the famous run.
Despite Stephen carried the most liveries in the British Railway Stories, in real life Scott has the most liveries.
In real life Flying Scotsman is Simon A.C. Martin's first steam engine to see in person (he was barely 6 years old). From the Llangollen Railway in Wales in 1994. 
Flying Scotsman is the first locomotive in the series that appeared on Thomas and Friends. 
Flying Scotsman is the first sole survivor introduced in the series. 
Flying Scotsman is the only non streamlined LNER Gresley Pacific in preservation. 
Gallery
Community content is available under
CC-BY-SA
unless otherwise noted.