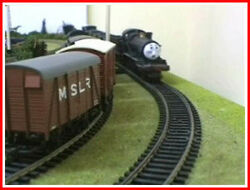 "Jackson"
Class: GWR 4300 Class
Designer: G.J. Churchward
Builder: Swindon Works
Configuration: 2-6-0 (Mogul)
"Jackson" is an old tender engine from the Great Western Region.
Bio
As Stephen said that Jackson was older than him, it can be presumed that Jackson was one of the 4300's that were built before 1928.
In 1950, Jackson was loaned to the Eastern Region to cover for an engine who failed near London. By this time, he was in a rather poor condition, and would often get very tired when he reached Copley Hill. One day, he ran out of steam under the Copley Hill signal gantry, and Allen had to be sent to help him get home. On the way though, Jackson derailed at a level crossing, and Allen went on without him. Whilst Allen was stopped and sent back, Jackson was re-railed, and when Allen came back, Jackson accepted his apology, and admitted that he had tried to hold on tight. After this, they set off again and Allen managed to get Jackson back to Old Oak Common depot.
Persona
Jackson appears to be quite friendly, as he takes some of the blame for his derailment to make Allen feel better.
Basis
Jackson is based on a GWR 4300 2-6-0. This class was designed by George Jackson Churchward who is probably the engine's namesake.
Appearances
Episodes
Trivia
Jackson was only referred to as "the old Western engine" in his appearance; the name was made up by the BRWS Team.
Jackson's face was later reused for Geoffrey and one of the scrapyard engines in The Parting of Ways.
Gallery