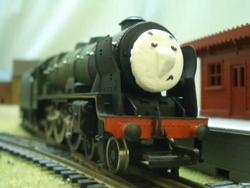 The Midland Engine
Number: 46100 (formerly 6100 and 6152)
Class: LMS Class 7P Royal Scot
Designer: Sir Henry Fowler
Builder: North British Locomotive Company
Built: 1927
Configuration: 4-6-0
Disposition: Presevered
"The Midland Engine" (originally Samson) is an engine from the Midland Region.
Bio
Samson was built in 1927 at the North British Locomotive Company in Glasgow. In 1952, he was pulling a train of vans when he was held up by some faulty points near Leeds. The points were soon fixed, but then the brakes on the engine's trucks came on. Samson was concerned because there was another train in the section, and his driver went about releasing the brakes. They had just finished when a loud whistle echoed behind them. He quickly began to move, but he couldn't move quickly enough, and Stephen, who was pulling Herbert's goods train, collided with the rear of the engine's train. Samson spent that night clearing up the wreckage with Nigel and that morning he stopped at Copley Hill to tell Allen and Sir Ralph about the accident. He felt very miserable about it, and apologised many times, until Sir Ralph kindly told the engine that it wasn't his fault, and that he should get on home. Samson then left.
In the winter of that year, Samson had trouble in the snow, as he slipped on the rails a few times.
Persona
Samson appears to be a friendly, but impatient engine.
Basis
Samson is based on a LMS 7P Royal Scot 4-6-0.
Livery
Samson is currently painted in BR brunswick green.
Appearances
Trivia
Samson wore Scott's face in his appearances.
Samson also appeared in one of the trailers for The Ghosts of Engines Past but when the episode aired he was cut from the script.
Samson was based on the real 46100 (who was actually named Royal Scot), that was preserved.
It is possible that Samson was supposed to be No. 46135, which was an actual Royal Scot who carried that name. 
Community content is available under
CC-BY-SA
unless otherwise noted.