60163 Tornado is the newest Peppercorn A1 4-6-2 Pacific.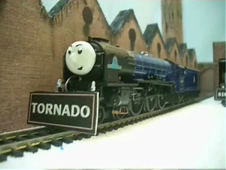 Tornado
Number: 60163
Class: LNER Peppercorn A1
Designer: Arthur Peppercorn (Original)
Builder: A1 Steam Trust
Built: 2008
Configuration: 4-6-2
Top Speed: 70 mph
Disposition: Preserved
Tornado is a mainline steam locomotive built in Darlington, England. Completed in 2008, Tornado was the first such locomotive built in the United Kingdom since Evening Star in 1960. It is the only example of a LNER Peppercorn A1 class locomotive in existence, the entirety of the original production batch having been scrapped without preservation. The locomotive's namesake is the Panavia Tornado, a combat aircraft flown by the Royal Air Force.
Actual construction of Tornado began in 1994, being based at Darlington Works for most of the project, while numerous components such as the boiler were manufactured elsewhere. The project was financed through fundraising initiatives such as public donations and sponsorship deals; further funding came from hiring Tornado itself on special services. Construction was completed in 2008, and full certification of the locomotive was achieved in January 2009. Having been designed with compliance to modern safety and certification standards, Tornado has been conducting passenger services on the UK rail network and on mainline-connected heritage railways since 2008 onwards.
Relatives
Edit
Allen (Brother, scrapped)
Arthur (Cousin, scrapped)
Appearances
Edit
Tornado appeared in Hawk the Hunter and Great Scott, despite Hawk the Hunter was set in 1953 and the flashback in Great Scott is set in 1952.
Tornado cameoed in the credits of 2 consecutive episodes because it was Simon A.C. Martin's favourite locomotive, so it was a way of showing it.
Community content is available under
CC-BY-SA
unless otherwise noted.